Isaiah 61 for National elections
25.09.2011.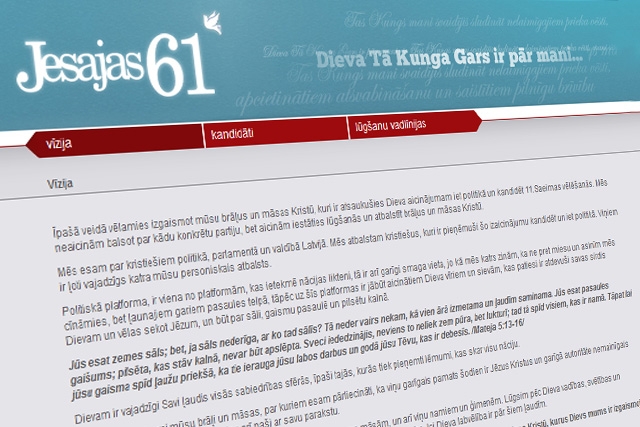 LEA SUPPORTS CHRISTIANS IN POLITICS – WWW.JESAJAS61.LV (Isaiah 61)

On July 23, 2011, at the request of Latvia's president Valdis Zatlers, a national referendum was held to dissolve the 10th Saeima (National Parliament) and national election was held on September 17th.

The Latvian Evangelical Alliance supports Christians in politics, parliament and the government of Latvia. God needs His people to work in all areas of society, especially those that influence the nation. As one of our obligations, we believe that we must bring this news to the Body of Christ preparing and sending out Christians to all seven mountains of influence (family, church, business, education, government, art and media, science and technology) so that Christ is represented everywhere, not only on the Church mountain.
Preparing for the 17th of September, the LEA prayer group prepared prayer guidelines inviting churches in Latvia to pray for the upcoming elections and the new parliaments. These prayer guidelines were sent out electronically to prayer groups throughout Latvia and the world as well as being published on a webpage in Latvian and Russian - www.jesajas61.lv.

The aim of this webpage is to highlight our brothers and sisters in Christ who have responded to God's call to go into politics and be a candidate for the 11th Saeima. Of the 1092 candidates only 37 were revealed and represented in the webpage. We did not ask anyone to vote for a specific political party but invited everyone to pray and support brothers and sisters in Christ.

Why the webpage is called Isaiah 61? Because this is a special word that we believe has been given for the nation of Latvia and its people. This word from Isaiah 61 was also our prayer and proclamation for our brothers and sisters, parliamentary candidates, because it contains God's call, His promises and His protection. Politics is one of the platforms that influences the fate of a nation. This is a spiritually heavy place because, as we all know, we fight not against flesh and blood but at against evil principalities and powers in heavenly places. This is why those who work in this platform must be men and women called by God, who have given their whole hearts to God and desire to follow Jesus and who will be the salt and light of the world, the city on a hill:

"You are the salt of the earth; but if the salt has become tasteless, how can it be made salty again? It is no longer good for anything, except to be thrown out and trampled under foot by men. You are the light of the world. A city set on a hill cannot be hidden; nor does anyone light a lamp and put it under a basket, but on the lampstand, and it gives light to all who are in the house. Let your light shine before men in such a way that they may see your good works, and glorify your Father who is in heaven." /Matthew 5:13-16/

Five political parties were elected into the new Saeima on September 17th. We are thankful that of the 100 deputies, 9 are Christians, representing each of the five elected parties. Praise God! We believe that God has a good plan for Latvia!

Please pray for Latvia.
In Christ's love,
The Leader of Website jesajas61.lv
Inga Ziņģe-Pupiņa


Print